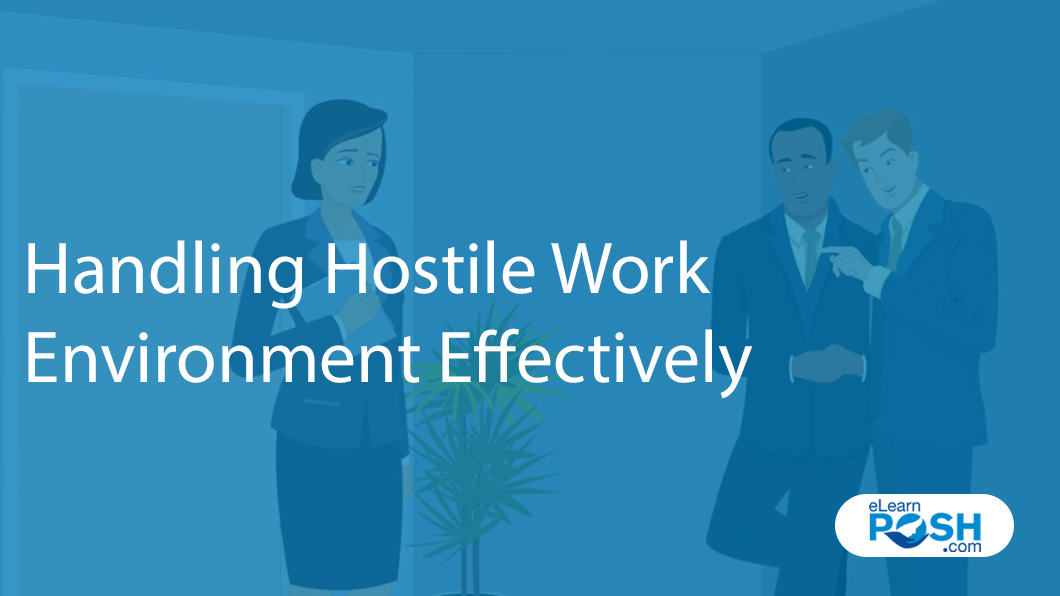 POSH Act and Hostile Work Environment
Sexual Harassment of Women at Workplace (Prevention, Prohibition, and Redressal) Act, 2013, commonly known as the POSH Act is enacted to prevent any form of sexual harassment in the workplace. The Act gives female employees the right to complain about any unfortunate incident to the investigating body called the Internal Committee in the organization. This was an important move towards ensuring equality in workplace. A challenge with this is that many employees are unsure about what is and what is not sexual harassment and hence they hesitate to place complaints.
POSH Act broadly classifies sexual harassment into two categories: hostile work environment and quid pro quo. This blog helps you clearly understand what it means to experience a hostile work environment.
What is Hostile Work Environment?
Various laws have described hostile work environment differently. However, they all have some common aspects. Any form of behavior, action or communication creates a hostile environment when it is unwelcomed by the receiving party, is sexually explicit in nature, pervasive or severe, intimidating or offensive and hampers employee's work performance.
Let's break down the terms pervasive and severe before going into more details.
Pervasive means the harasser has repeated the behavior several times. This may or may not be intentional, but this can affect the employee's readiness to go to work and their work performance. When the harassing behaviour is severe, it can have a huge impact on the aspects that determine the performance of the employee. Emotional disturbances, calling in sick, stress and anxiety are examples. Since terms like pervasiveness and severity can be subjective, one way to look at it is if a reasonable person would find the behaviour hostile.
Anyone in the organization can be responsible for creating a hostile work environment, like co-worker, a supervisor or manager, a contractor, client, vendor, or visitor.
Here are some examples of Hostile Work Environment:
A co-worker who continuously makes sexually offensive jokes or shows/shares images that are sexually explicit,
Manager casually making remarks about the body of an employee,
Ogling or stalking,
Name calling and gossiping about employees,
Making sexual advances at employees,
Interfering with someone's ability to move freely or
Continuously asking out a peer after being turned down the first time.
There can be other reasons as well when an employee finds it difficult to focus on the job. An inefficient manager, unhealthy working culture, organizational policies that are not employee-friendly, rude co-worker, lack of perks, privileges, benefits, and recognition, office politics, etc. can also make the work environment unpleasant for the employee. But these do not amount to hostile work environment in terms of sexual harassment.
How to Deal with Hostile Work Environment?
If you are being harassed, ask the harasser to stop the behaviour or communication. Let the harasser know that you are not comfortable with the behaviour. In most cases this would solve the problem. A stern no is all that a harasser may need to stop. This is because the harasser may not be aware of the impact it has on you. If it is difficult to do it by your own, you can take help from your human resources or manager. They can mediate a conversation between you and the harasser. If you do not wish to be part of the conversation you can let the HR or manager know, so that they can do it in your absence.
If communicating directly has not helped and the harassing behaviour continues, it looks like it is time for some serious action. It is time to file a complaint against the harasser to the Internal Committee (IC) of your organization. IC will handle the issue, conduct a thorough investigation, and recommend appropriate action if the respondent (against whom the complaint is charged) is found guilty. The complainant should extend full cooperation to the IC for a fair and objective investigation.
Click here to check our video on Hostile Work Environment.
Please note that your organization may not have an IC if it has less than 10 employees. In that case the complaint must be filed to the Local Complaints Committee (LCC) formed by the District Officer in every district. In case the organization has not constituted an IC even after having 10 or more employees, it is an offence and can attract penalty. The only way the person subjected to harassment can get justice, in this scenario, is by filing a complaint according to the Indian Penal Code.
Every employer wants to create a positive environment for their employees. Empowering employees and ensuring equality can go a long way. POSH Training for the employees to sensitize them about their duties and rights and the complaint mechanism as per the POSH Act is a good step towards empowerment. Check out our interactive and industry specific eLearning course on prevention of sexual harassment in the workplace.
To read about the other category (Quid pro quo) of Sexual Harassment, click here