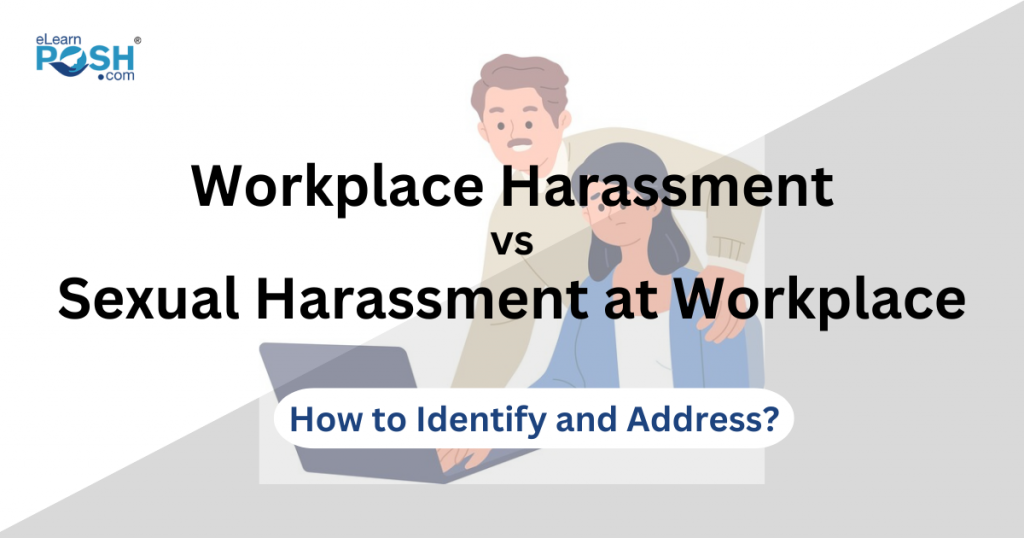 Introduction
Workplace harassment is a pressing issue that affects employees' well-being and productivity across the globe. Understanding the distinctions between workplace harassment and sexual harassment at the workplace is crucial, as each has its own implications and legal framework. A fundamental commonality between workplace harassment and sexual harassment is their capacity to foster a hostile work environment. In this blog, we will define and differentiate these two forms of harassment, and explore how India's laws address them.
Sexual Harassment at Workplace v/s Workplace Harassment
Distinguishing between sexual harassment at the workplace and workplace harassment can often be a complex and challenging task. Several factors contribute to this difficulty.
Overlapping Behaviours:

Many behaviours that constitute workplace harassment, such as verbal abuse, intimidation, or even bullying, can also be components of sexual harassment.

Subjective Perception:

Harassment, whether sexual or non-sexual, often hinges on the perception of the victim. What one person may perceive as sexual harassment; another might interpret as workplace harassment.

Victim's Reluctance:

Victims of harassment may be hesitant to report incidents due to fear of retaliation or social stigma. Consequently, they may not provide a complete picture of their experiences, making it challenging to discern the nature of the harassment accurately.

Evolving Workplace Dynamics:

Work environments are evolving with a focus on diversity, equity, and inclusion, leading to changing perceptions and definitions of acceptable behaviour, including harassment.
Since sexual harassment at the workplace and workplace harassment often intersect and can be challenging to differentiate, it is crucial for organizations to adopt clear policies, provide comprehensive training, and establish effective reporting mechanisms to address both forms of harassment adequately. We, at eLearnPOSH offer interactive, engaging, and legally accurate online POSH training and webinars. We also offer customizable Code of Conduct courses designed to meet your organization's specific requirements. In addition to our courses, we offer a range of features that can assist your organization in maintaining POSH compliance effectively.
What is Workplace Harassment?
Workplace harassment covers a broad spectrum of unwelcome behaviours, actions, or communication, within the work environment. Harassment in the workplace is not limited to a single type of behaviour but rather encompasses a spectrum of actions that undermine a healthy and respectful work environment. These actions can include:
Verbal Harassment:

This involves spoken or written communication that is offensive, demeaning, or threatening.

Physical Harassment:

This encompasses any form of unwelcome physical contact or invasive actions, such as pushing, shoving, touching, or any behaviour that makes an individual feel physically threatened or unsafe.

Psychological Harassment:

This refers to actions that manipulate or undermine an individual's emotional or mental well-being. This can include constant criticism, isolation, psychological intimidation, or threats to job security.

Cyberbullying:

Harassing or intimidating colleagues through digital communication channels.

Discrimination:

Treating employees unfairly based on their gender, race, religion, or other protected characteristics.
Let us try to understand the meaning of workplace harassment with the help of a scenario. In an office, an employee named Arijit frequently receives derogatory comments and harsh criticism from his manager, Lata. She regularly raises her voice, humiliates him in front of coworkers, and assigns him menial tasks well below his qualifications. Arijit's self-esteem plummets, and he dreads going to work due to the constant belittlement and hostile treatment from Lata.
What is Sexual Harassment at Workplace?
Sexual Harassment at the Workplace, on the other hand, is a specific subset of workplace harassment. It involves unwelcome sexual advances, requests for sexual favours, or any other verbal or physical conduct of a sexual nature that interferes with an individual's work performance or creates a hostile work environment. Instances of sexual harassment can include:
Unwanted Advances:

Persistent romantic or sexual advances despite clear rejection.
Inappropriate Comments: Making suggestive or explicit comments about a person's appearance, body, or clothing which have a sexual connotation.

Leering or Staring:

Continuously gazing at someone in a sexual or intimidating manner.
Sexual Jokes or Innuendos: Sharing jokes or comments of a sexual nature that make others uncomfortable.

Unwanted Touching:

Touching, patting, or groping someone without their consent.
Let us try to understand the meaning of sexual harassment at workplace with the help of a scenario. A co-worker, Raj, repeatedly makes inappropriate sexual comments about a colleague, Priya, and sends her sexually explicit messages, despite her clear disapproval. This constitutes sexual harassment, as Raj's behaviour is creating a hostile work environment for Priya.

Hostile Work Environment: A Common Consequence
One critical aspect that unites both workplace harassment and sexual harassment is their potential to create a hostile work environment. This hostile environment is characterized by an atmosphere where individuals feel intimidated, degraded, or uncomfortable due to unwelcome behaviour, comments, or actions directed towards them.
It is essential to recognize that the consequences of workplace and sexual harassment extend beyond the individual victims. The entire workplace can be adversely affected. A climate of fear and uncertainty can prevail, making employees hesitant to report incidents or speak up about their concerns. Additionally, when organizations fail to address harassment effectively, it can tarnish their reputation, deter potential talent from joining the company, and even result in legal repercussions. Employers may face lawsuits and financial penalties for failing to maintain a safe and respectful work environment. Therefore, understanding and addressing these issues proactively is not only a compliance requirement but also essential for fostering a healthy, productive, and inclusive workplace where employees can thrive without fear of harassment.
How to deal with Workplace Harassment?
Workplace harassment is governed by various labour laws and regulations in India. Employers are required to maintain a safe and respectful working environment for all employees. While labour laws and regulations exist to address workplace harassment, it is important to recognize that they may not always offer comprehensive protection against various forms of mistreatment within the workplace. One of the challenges lies in defining and categorizing workplace harassment adequately. Workplace harassment can manifest in subtle, nuanced ways that may not fit neatly into legal definitions. Additionally, the burden of proof often falls on the victim, making it challenging to substantiate claims of harassment, especially when they involve verbal or psychological mistreatment.
The Indian Penal Code, 1860 offers protection against specific acts such as criminal intimidation, defamation, assault, battery, and other physical forms of harassment. However, it falls short when it comes to providing comparable safeguards against verbal harassment in the workplace, except for instances involving defamation. This limitation underscores the need for a more comprehensive legal framework to address the diverse range of verbal harassment issues that can arise within professional settings.
When a fundamental right is violated, those affected always have the recourse to seek justice by approaching the constitutional courts in India. They can file a writ petition in the High Court, under Article 226, or the Supreme Court, under Article 32 of the Indian Constitution.
How to deal with Sexual Harassment at Workplace?
Sexual Harassment at Workplace: In India, the Sexual Harassment of Women at Workplace (Prevention, Prohibition and Redressal) Act, 2013 (POSH Act, 2013), addresses the issue of sexual harassment at the workplace. Employers are mandated to establish Internal Committees (ICs) to handle sexual harassment complaints. Additionally, employers must conduct regular POSH awareness training to educate employees about their rights and how to report instances of sexual harassment. Under the 2013 Act, the employer is also required to draft a POSH Policy that outlines the organization's commitment to preventing and addressing sexual harassment in the workplace. POSH compliance is a legal mandate as per the POSH Act, 2013. The POSH Act, 2013 is a civil law and the IC has the powers of a civil court while conducting the inquiry. The parties cannot be represented by a legal representative and the standard of proof is preponderance of probability and not proof beyond a reasonable doubt.
The aggrieved also has the option to file a complaint with the Police under the specific provisions of the IPC, 1860; such as Section 354 (Assault or criminal force with intent to outrage a woman's modesty), Section 354A (Sexual Harassment and Punishment for sexual harassment), Section 509 (Word, gesture, or act intended to insult a woman's modesty), and Section 375 (Rape). IPC, 1860 is a criminal law and the investigation under this Law would follow the due process of criminal law, including the right to legal representation, prove guilt/innocence beyond reasonable doubt etc.
Conclusion
Understanding the distinctions between workplace harassment and sexual harassment at workplace is essential for both employees and employers in India. While workplace harassment covers a broad spectrum of unwelcome behaviour, sexual harassment specifically pertains to sexual advances or conduct. POSH compliance, including conducting POSH training, plays a critical role in preventing and addressing sexual harassment and ensuring a safe and respectful work environment for all.