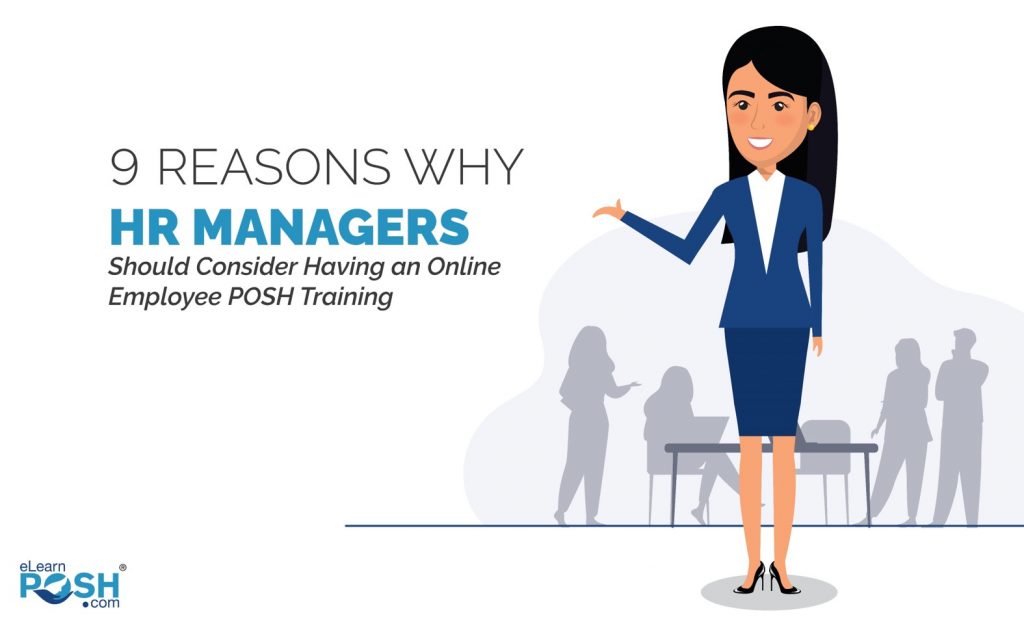 An Introduction to POSH Training
Sexual Harassment of Women at Workplace (Prevention, Prohibition and Redressal) Act, 2013), commonly called the POSH Act was enacted to ensure safety for women within the workplace. The POSH Act mandates every employer to conduct awareness sessions to the employees and IC members about the provisions of the POSH Act.
As organizations became more and more concerned about diversity and inclusion within the workplace, POSH Training is also getting increased attention. Before the new normal, many organizations used classroom training for sexual harassment prevention awareness. With most of the workforce working remotely, we have seen a meteoric rise in the number of online trainings on POSH awareness. Here, we list out some reasons why HR managers should consider online POSH training over classroom training.
1. Handling Sensitive Topics with Ease
Sexual harassment is a very sensitive topic. The examples of sexual harassment are equally sensitive. Imagine the awkwardness when acts like touching, stroking, patting, and obscene gestures are discussed in the classroom. Many find it uncomfortable to have discussions about instances of sexual harassment in a classroom training set up when they are with other learners.
If asked to pick the single most critical benefit of online POSH training, many would say that it is the privacy and convenience of understanding a sensitive issue in a manner the learner is most comfortable with.
2. Best Way to Replicate Real-Life Scenarios
Sexual harassment prevention is a training topic that needs the use of different scenario-based examples. Online harassment, the meaning of sexual harassment and what is and what is not sexual harassment are some topics that need the use of examples. In classroom training, the trainer usually narrates an example in a third-person perspective which may not have the required impact.
Such examples taken from real life can be easily replicated from the first-person perspective in online POSH training using animated characters. The advantage of using animated character is that the meaning can be conveyed without creating any form of discomfort for the learner.
3. Can Control the Frequency and Consistency
Like learning any other concept, to ensure better retention of the concepts learned, sexual harassment prevention training must be conducted frequently. Employees must undergo the training at least twice in a year. This may not be really possible with classroom training due to cost and logistics reasons.  With online POSH training, an organization can take an annual subscription for the online POSH training and can use that training several times in the year without any additional cost or impact to logistics.
Another disadvantage to classroom training is the lack of consistency. When the same topic is covered by two different trainers, their personal opinions and perspectives will influence the effectiveness of the training. This will result in audience grasping different information for the same training. With online training, all employees will go through the same training ensuring consistency in the way the information is disseminated.
4. Caters To All Types of Learners
Based on the learning styles, there are three different types of learners – visual learners, auditory learners and kinesthetic learners. It is important that a training should cater to all the three learning styles. In most cases, classroom trainings do not cater to the kinesthetic learner. Impactful online POSH trainings use enriching visuals – to cater to the visual learner, professional voice over – to cater to the auditory learner and interactive activities – to cater to the kinesthetic learner.
5. Effective When Employees Are Working Remotely
After the pandemic struck, remote working became the new normal. The advent of technology and increase in the quality of internet connection has made remote work a viable option for many organizations. In this "work from home" scenario, classroom approach to create POSH awareness may not be the best idea. Online training offers the flexibility required to create awareness for the remote workforce as they can be rolled out to all employees regardless of the location and work timings.

6. eLearning is Cost-effective
POSH trainings are compliance requirements and hence all employees of the organization must attend it, even if the organization has many units and branches in different states.
Getting a classroom trainer for each unit and ensuring that they are available to conduct training in different batches especially when the employee count is large will be a huge hassle. Not just that, every time a new employee joins the organization, the HR must find a way to train the new employee. This whole process will be cumbersome and will have an impact on the cost.
eLearning courses for POSH makes it very easy to create POSH awareness even for one employee. All the HR has to do is enroll that employee for the POSH eLearning course and this can be done with no additional cost impact as eLearning courses are available for a number of users for the whole year.
7. Available In Multiple Languages
Many organizations have a diverse workforce who come from different states in India. While some may be comfortable with training in English, many prefer a training in their regional language. Organizations arranging separate awareness sessions for employees in different regional languages is not practical. With online trainings, organizations can purchase the POSH awareness courses in different languages without any additional cost impact. eLearnPOSH offers POSH Foundation course for staff (both white collar and blue-collar) in English and seven regional languages like Hindi, Marathi, Bengali, Kannada, Telugu, Tamil and Malayalam. If you are looking for POSH Awareness course for your employees in different languages, contact us.
8. Awareness for Blue Collar Workforce
Many organizations have a good number of blue-collar employees who do not use laptops or computers. POSH Law mandates that POSH awareness should be created for all the employees including the blue-collar workers. Since many of them are not comfortable with English, awareness sessions should be conducted in their regional language. If the organization takes the conventional approach towards awareness creation, it can become cumbersome.

eLearnPOSH has introduced Mass Education Licenses (MEL) to cater to the needs of the organization that has blue-collar workforce. Organizations can purchase the Mass Education Licenses in different languages without any additional cost and can use it to train all the blue-collar employees speaking the same language. For more information on POSH Mass Education Licenses, contact us.
9. POSH Training – Evaluation and Compliance Tracking
Any effective training should end with an evaluative assessment. Organizations must also ensure that all employees have attended the training.
While this is possible with classroom training, it involves lot of manual work and is time consuming. With online training, the post course assessment and report tracking options are embedded in the Learning Management System which makes them automated, less time consuming and accurate.
Online POSH Training from eLearnPOSH
The classic classroom training has several benefits. That is the most effective approach for behavioural trainings. However, when it comes to compliance and technical trainings, online training is the more effective and efficient approach.
eLearnPOSH specialises in online POSH training. Our legally accurate trainings are developed with the right balance of legal terms and real-life examples. Our three POSH eLearning courses cater to different audience. Prevention of Sexual Harassment Foundation covers the basics about the POSH Act and caters to all the employees. The course is available in English and seven Indian languages. Our engaging and interactive Prevention of Sexual Harassment – Manager training focuses on the role of managers in preventing sexual harassment at workplace and handling complaints.
Prevention of Sexual Harassment Training for Internal Committee developed using a modular approach empowers IC to conduct inquiries and prevent sexual harassment effectively. Both POSH Annual Subscription Program for Managers and IC Members come with annual webinars at no additional cost. Subscribers for POSH for IC Members program can attend three periodic POSH webinars conducted by POSH experts. The webinars include an open Q&A to ensure that IC members are empowered to prevent harassment, conduct inquiry, prepare inquiry reports and file Annual Report. Think POSH compliance, think eLearnPOSH!